Bread basket 890 kr.
Freshly baked country bread, Icelandic
butter with black garlic, dates and pumpkin seeds
Spicy rosemary nut mix 1.490 kr.
Pecan nuts, hazelnuts, Brazil nuts, cashew nuts,
almonds
Mixed marinated olives 1.490 kr.
Peppadew chili, oregano
Truffle fries 1.290 kr.
Truffle oil, parmesan, harrisa mayo,
truffle mayo
Fries 990 kr.
Japanese cocktail sauce
Harissa fries 1.290 kr.
Harissa mayo

Crispy cauliflower 1.890 kr.
Parmesan & panko coated cauliflower, BBQ sauce, relish mayo
Hummus tower 2.490 kr.
perfect to share
Grilled country bread, traditional Icelandic flatbread
> Beetroot hummus
> Avocado hummus
> Pumpkin hummus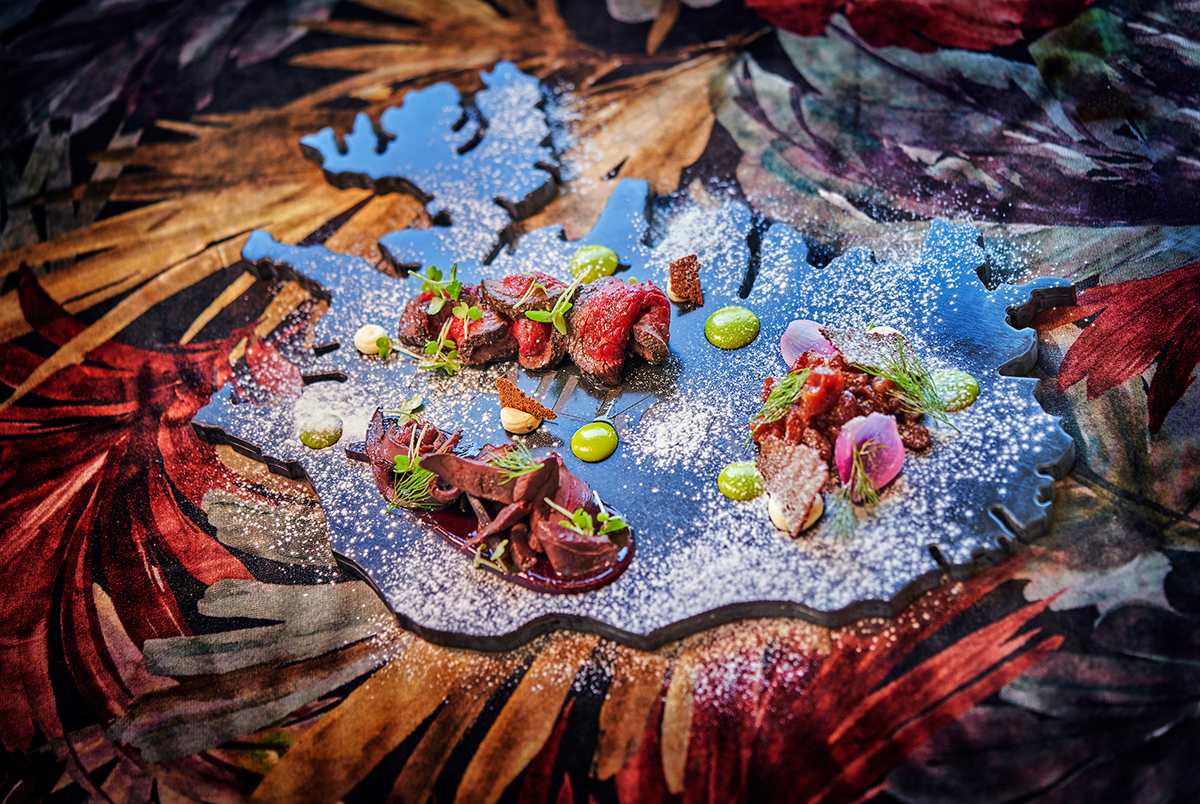 Soup of the day 1.590 kr.
Freshly baked country bread, Icelandic butter with black garlic, dates and pumpkin seeds
Buffalo chicken tenders 2.590 kr.
Panko & chili coated chicken tenders in Buffalo BBQ sauce,  pickled celery, salted peanuts, blue cheese sauce
Lamb & flatbread 2.990 kr.
Slow cooked lamb, Icelandic flatbread
from the Westfjords, carrot purée, pickled red onions, horseradish sauce
Arctic charr & blini 2.890 kr.
Lighly cured arctic charr, chickpea flatbread, horseradish sauce, roe, crispy lentils, yuzu elderflower dressing
Grilled beef spears "kebab style"
2.990 kr.
Icelandic flatbread from the Westfjords, green tahini, grilled spring onions,
confit cherry tomatoes, Skyr tahini 
Fish of the day 2.790 kr.
Ask your waiter
Grilled salmon 3.690 kr.
Hoisin mushrooms, fregola, asparagus, garlic-celeriac paste, smoked aioli
Plaice 3.490 kr.
Pan fried plaice in charmoula butter, grilled zucchini, asparagus, beer hollandaise

Chicken salad 3.790 kr.
Pomegranate, romain salad, pickled grapes, pistachios, pickled sellery, pomegranate dressing, creamy avocado, parmesan crisps
Lamb burger 3.490 kr.
Bacon, mushroom & date duxelle, pickled red onions, pickled cucumber, ruccola, smoked cheese, relish mayo, fries
Lamb Charmoula 3.990 kr.
Grilled rump steak, harissa chickpeas, garlic cream, grilled zucchini, pinte nuts,
green Charmoula
Beef & Bernaise steak sandwich
3.890 kr.
Mushrooms, piquillo peppers, pickled red onions, romain salad,
Bernaise sauce, fries
1/2 chicken Piri Piri 4.990 kr
Breast, leg and boneless thigh, truffle parmesan fries, "skyr" tahini sauce
Beef tenderloin 5.990 kr.
200 g, carrots, grilled asparagus, celeriac purée, baby potatoes, beer-hollandaise

Grilled cauliflower 2.890 kr.
Pomegranate, pearl barley, spinach & basil
purée, "skyr" tahini, pistachios
Broccolini Charmoula 2.990 kr.
Grilled broccolini, harissa chickpeas, garlic cream, grilled zucchini, pine nuts, green Charmoula
Veggie burger 3.390 kr.
Black bean and nut patty, parmesan,
red onions, smoked cheese, hoisin mushrooms, truffle mayo, fries
Vegan BBQ ribs 3.290 kr.
Hoisin mushrooms, pickled beech mushrooms, pickled red onions, spring onions, sesame seeds, harissa fries,
BBQ sauce
Deep fried brownie 1.890 kr.
Vanilla ice cream, whipped cream, chocolate sauce, caramelized pecans, dulche de leche
Deep fried Oreo 1.890 kr.
Vanilla ice cream, chocolate sauce
Snickers meringue cake 1.890 kr.
Chocolate cake, snickers caramel, meringue, warm snickers sauce, whipped cream
Eton Mess "skyr" cheesecake 1.890 kr.
White chocolate "skyr" mousse, meringue, raspberries, raspberry sauce
Cup cakes 2 pc. 1.390 kr.
Red Velvet
> raspberry filling, cream cheese
"skyr" icing
Chocolate fudge
> dulche de leche filling, chocolate icing
Þristur chocolate cake 1.890 kr.
Icelandic liquorice chocolate "Þristur", chocolate, vanilla ice cream, whipped cream
Coconut candy cake 1.990 kr.
Chocolate layer, coconut and almond layer, Icelandic coconut candy "Kókosbolla", chocolate, Kókósbolla ice cream
Banoffee pie 1.890 kr.
Caramelized bananas, biscuit base, Mars, dulce de leche caramel, chream, Mars sauce, ice cream with fried bananas
Traditional Icelandic pancake
890 kr./pc.
> Berries and cream
> Dulce de leche and "Nóa Kropp"
> Strawberries, Nutella, vanilla "skyr" cream
> Þristur mousse, Þristur and Ice cream

SNACKS
Bread basket 890 kr.
Freshly baked country bread, Icelandic
butter with black garlic, dates and pumpkin seeds
Spicy rosemary nut mix 1.490 kr.
Pecan nuts, hazelnuts, Brazil nuts,
cashew nuts, almonds
Mixed marinated olives 1.490 kr.
Peppadew chili, oregano
Truffle fries 1.290 kr.
Truffle oil, parmesan, harrisa mayo, truffle mayo
Fries 990 kr.
Japanese cocktail sauce
Harissa fries 1.290 kr.
Harissa mayo
Crispy cauliflower 1.890 kr.
Parmesan & panko coated cauliflower, BBQ sauce, relish mayo
Hummus tower 2.490 kr.
perfect to share
Grilled country bread, traditional Icelandic flatbread
> Beetroot hummus
> Avocado hummus
> Pumpkin hummus
SMALL COURSES
Soup of the day 1.590 kr.
Freshly baked country bread, Icelandic butter with black garlic, dates and pumpkin seeds
Buffalo chicken tenders 2.590 kr.
Panko & chili coated chicken tenders in Buffalo BBQ sauce,  pickled celery, salted peanuts, blue cheese sauce
Lamb & flatbread 2.990 kr.
Slow cooked lamb, traditional Icelandic flatbread from the Westfjords,
carrot purée, pickled red onions, horseradish sauce
Arctic charr & blini 2.890 kr.
Lightly cured arctic charr, chickpea blini, horseradish sauce, roe,
crispy lentils, yuzu elderflower dressing
Grilled beef spears "kebab style"
2.990 kr.
Icelandic flatbread from the Westfjords, green tahini, grilled spring onions, confit cherry tomatoes, Skyr tahini 
VEGETABLES
Grilled cauliflower 2.890 kr.
Pomegranate, pearl barley, spinach & basil
purée, "skyr" tahini, pistachiosi
Broccolini Charmoula 2.990 kr.
Grilled broccolini, harissa chickpeas, garlic cream, grilled zucchini, pine nuts, green Charmoula
Veggie burger 3.490 kr.
Black bean and nut patty, red onions, smoked cheese, hoisin mushrooms,
truffle mayo, fries
Vegan BBQ ribs 3.290 kr.
Hoisin mushrooms, pickled beech mushrooms, pickled red onions, spring onions, sesame seeds, harissa fries, BBQ sauce
MAIN COURSES
SEAFOOD
Fish of the day 2.790 kr.
Ask the waiter
Grilled salmon 3.690 kr.
Hoisin mushrooms, aspargus, fregola, garlic-celeriac paste, smoked aioli
Plaice 3.490 kr.
Pan fried plaice in charmoula butter, grilled zucchini, asparagus, beer hollandaise
MEAT
Chicken salad 3.790 kr.
Pomegranate, romain salad, pickled grapes, pistachios, romanesco cauliflower, pomegranate dressing, creamy avocado, parmesan crisps
Lamb burger 3.490 kr.
Bacon, mushroom & date duxelle, pickled red onions, pickled cucumber, rucola, smoked cheese, relish mayo, fries
Lamb Charmoula 3.990 kr.
Grilled rump steak, harissa chickpeas, garlic cream, grilled zucchini, pine nuts,
green Charmoula
Beef & Bernaise steak sandwich 3.890 kr.
Mushrooms, piquillo peppers, pickled red onions, romaine salad, Bernaise sauce, fries
1/2 chicken Piri Piri 4.990 kr
Breast, leg and boneless thigh, truffle parmesan fries, "skyr" tahini sauce
Beef tenderloin 5.990 kr.
200 g, carrots, grilled asparagus, celeriac purée, baby potatoes, beer-hollandaise
SWEETS & DESSERTS
Deep fried brownie 1.890 kr.
Vanilla ice cream, whipped cream, chocolate sauce, caramelized pecans, dulche de leche
Deep fried Oreo 1.890 kr.
Vanilla ice cream, chocolate sauce
Snickers meringue cake 1.890 kr.
Chocolate cake, snickers caramel, meringue, whipped cream
Eton Mess "skyr" cheesecake 1.890 kr.
White chocolate "skyr" mousse, meringue, raspberries, raspberry sauce
Cup cakes 2 stk. 1.390 kr.
Red Velvet
> raspberry filling, cream cheese "skyr" icing
Chocolate fudge
> dulche de leche filling, chocolate icing
Þristur chocolate cake 1.890 kr.
Icelandic liquorice chocolate "Þristur", chocolate, vanilla ice cream and whipped cream
Coconut candy cake 1.990 kr.
Chocolate layer, coconut and almond layer, Icelandic coconut candy "Kókosbolla", chocolate, Kókósbolla ice cream
Banoffee pie 1.890 kr.
Caramelized bananas, biscuit base, Mars, dulce de leche caramel, chream, Mars sauce, ice cream with fried bananas
Traditional Icelandic pancake 890 kr./pc.
> Berries and cream
> Dulce de leche and "Nóa Kropp"
> Strawberries, Nutella, vanilla "skyr" cream
> Þristur mousse, Þristur and Ice cream